Hastings Humans has provided highest quality call center and answering services since 1948. What began as a one-woman home based operation has grown into a sophisticated, modern enterprise that remains grounded in those old school ideals. We believe in the value of a human voice, dynamic customer service, and going the extra mile for you and your customers. Take a look at Hastings Humans throughout the years. You'll notice that the styles and technology may have changed over the past 70+ years, but one thing never does - the humans.

The Beginning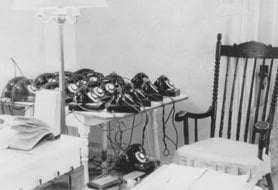 In 1948, Ann Hastings founded an Austin original, establishing our first "call center" in a room in the Hastings' home. What began as a few rotary phones on a table quickly ballooned to dozens of phones spilling across tables, chairs and the floor.
In 1951, we upgraded to our very own office in the heart of Austin, Texas at 6th and Congress. Along with our new digs, we added a key box system, sparing our customer service agents' fingers from the snap of the rotary dial. In 1957, we took another step into the future with our first switchboard, which is still on display in our office.
When we hit the 60s, we had a quarter-life crisis and changed our name from Austin Answering Service to Hastings Telephone Answering Service, Inc.
Leading the Way
Customer service and the power of a human connection has always been the bedrock of what we do, but as technology rapidly advanced, Hastings stayed on the cutting edge. We installed Austin's first computerized answering system in 1979 and its first voicemail system in 1981.
Just five years later, we upgraded to a new location off Shoal Creek and installed a state-of-the-art computer system to meet the demands of a new era of business.
From our archives, here's a 1986 interview where Ann discusses the founding of one of the nation's first 24/7 live answering services.
Our commitment to staying on top of the latest trends paid off in the 90s. Our investment in technology meant that our customer service agents could meet the demands of the burgeoning tech industry with ease. We were starting to look like the comprehensive answering service and contact center that we are now.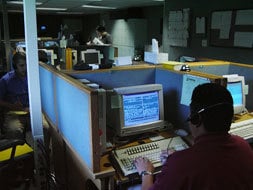 Here's a vintage 90's-era Hastings promotional video:
Now
We've evolved a lot since our humble beginnings, but through it all, we've delivered outstanding live answering and contact center services to businesses of all sizes. Our long history means that we have over 70 years of customer service experience to draw from. Today our office is fully modernized and we handle over 5000 calls a day! A lot of things have changed, but one thing hasn't, our real, live humans answering calls. In 2014, we changed our name to Hastings Humans to reflect our focus on providing authentic, personal service. While we've kept up with the times technologically, the foundation of our business is the very thing that sets us apart, our belief in the value of a human voice for your business.